Dear Rescue Group Leader or Volunteer,
Do your adoption families return dogs sometimes because it didn't work out, either where the family expectations weren't met, the dog didn't get along with other animals in the house or the dog developed bad behavior that the family couldn't correct?
Do you wish people were more responsible with their dogs and knew how to create a good forever home for your dogs?
Are you always running short of money and asking for continuous donations?
Do you want to know a resource that can train your new foster families?
We are here to partner with you. Our goal is to support you in your hard and (unfortunately) never-ending efforts to rescue animals, provide them the necessary care, and find a forever home. We do that by:
providing on-going workshops in the Atlanta area to empower dog guardians with knowledge about dog behavior and dog training

making the proceeds a tax-deductible donation that is immediately deposited in your account.
You may ask, "Iris how do you get paid?" I get paid by encouraging families to apply this knowledge and I hope in return they will provide a truly forever home for your dogs.  I get paid when I know that families feel responsible training their dogs and learning about dog behavior so that they know how to address it. I get paid when fewer dogs get returned to shelters or your rescue group because they fit into the families harmoniously; not because they had to do anything differently but families know how to create a safe environment for the dogs.
If you want to partner with me, please get in touch by completing the contact form to your right. And thank you for supporting me to make the difference. However, I cannot do this without you and here is what I need from you:
1. Since all the proceeds of the programs go to you, the rescue organizations, I obviously don't have a budget to promote and market these seminars. This is where I need your help. Once you email me your address, I will set up a quick telephone conversation where I will share with you my vision and answer your questions. Next, I will send you info cards (business card size)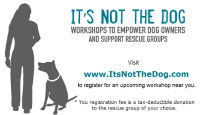 and I ask you to hand these cards out to potential dog adopters, new dog adoption families, foster families, volunteers, and pet care businesses in your area. Make sure you write the name of your rescue group on the back of the card so that people know who to return the money too.
2. When people sign up for the seminar, I ask them to go directly to your website, click on the "donation" button and submit the amount of $30 per person directly to your account. I will also ask them to email me your receipt so that I know the donation was completed. 
3. You can find me on Facebook at https://www.facebook.com/ItsNotTheDog. Please "like" the page and encourage the followers on your Facebook page to "like" the page so that they get informed about upcoming workshops and useful dog tips.
Any questions? Please contact us here and I will get back to you within the next 48 hours. 
On February 7th , 2009, our staff at Red Top Mountain State Park held our first "Have a Heart" Day; an animal welfare & education event.
Iris arrived well before her first scheduled presentation, with her two canine companions by her side and a warm, positive and professional energy about her.
In feedback I have received about "Have a Heart" Day, I have heard over and over again how impressed everyone was with Iris (and her dogs). In fact, I heard Iris referred to as " The Red Top Dog Whisperer", her professionalism, her passion, her obvious love for and connection with her canine companions shines through.