Breed:                 "Georgia Pure Bred Mutt" – Staffordshire
                             Terrier, German shepherd, Chow Chow,
                             sporting breed dog
Born:                   January 10, 2017
Energy Level:    Medium
Adult Size:         Medium – 47 lbs
Sex:                     Female
Personality:       Outgoing, friendly, confident, affectionate.
                             She is playful, smart, and obedient.
Rescue Story:
After many condition calls to a property in Henry County, GA for dogs being chained outside without shelter, Queeny's mother, Sunny, was seized in a drug raid on November 30, 2016. The police discovered a meth lab and arrested everyone on the property. Sunny and her two 1-year old pups ended up at animal control. Nobody at the shelter knew that Sunny was pregnant. On January 10, 2017 she gave birth to 3 pups in the pound. Within 4 days, two of them died. Queeny was the only surviving one. We rescued her mother and Queeny when she was five days old. At that time she weighed only 10oz. and we didn't know whether she would make it. But Queeny is a tough little cookie and survivor and now at 5 months old she is one of the sweetest dogs I've ever met.
Who she is now:
Queeny is a happy, energetic, and curious pup. She is house trained, crate trained, and she knows all the basic and many advanced obedience commands. Her obedience is extremely good for her age. On April 19th, Queeny completed a 6-week puppy training class with Jabula Dog Academy.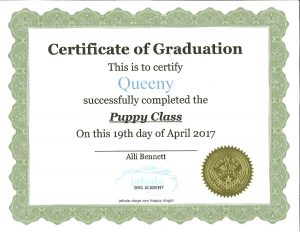 She walks nicely on the leash, enjoys her daily walks, travels well in cars, and she also knows how to swim. She gets along with small children, and she loves to play with dogs for hours.