I know it has been a long time since you heard from me last, let alone when I announced with you one of my workshops where I either answer dog training questions for dog owners or where I explained the importance of fresh nutrition for dogs.
But there is a reason why I have been so quiet – foster dogs.
In November of 2018, I took in a mama dog with her seven 2-week old puppies. She and the pups were dropped off at Cobb Animal Control the day before Thanksgiving. Who can do something like that? Thanksgiving and Christmas are non-existent holidays for me that usually give me plenty of time to relax and plan. So I decided to team up with Refuge Rescue and take in Lady (this is what we named the mama dog) and her pups. The room that I used for my training workshops became the puppy den overnight.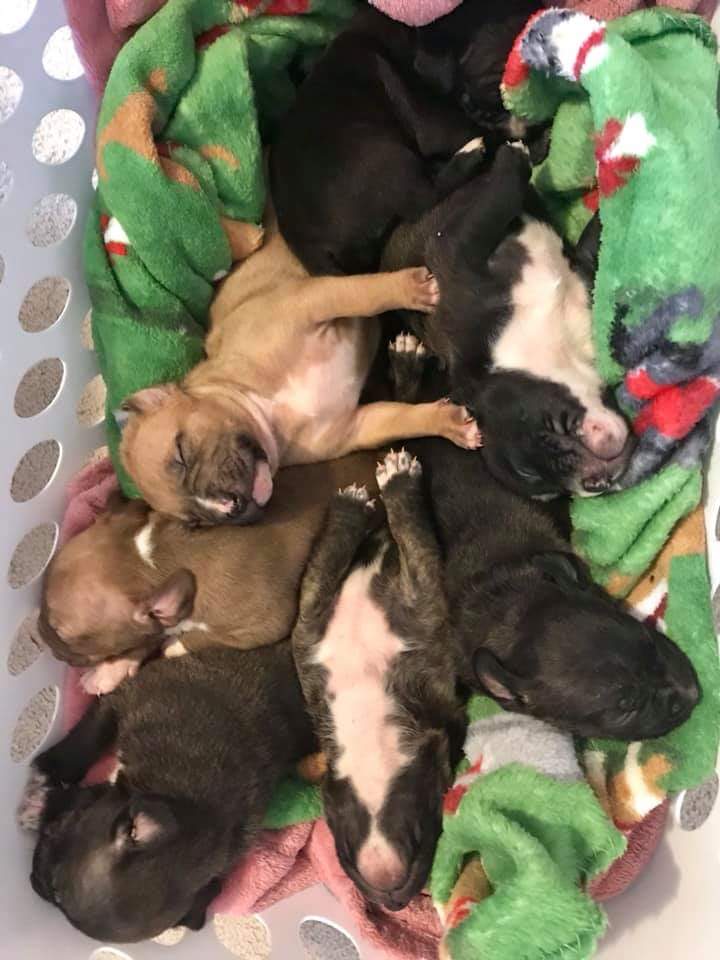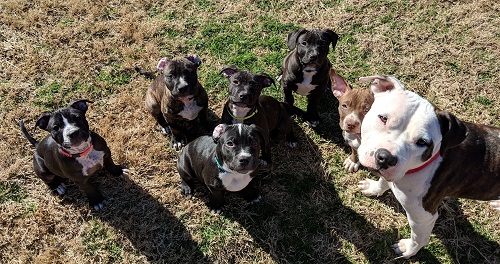 Unfortunately, their upbringing wasn't as smooth as I anticipated it. Within ten days, one of the pups declined dramatically within hours, and her life couldn't be saved. After that ordeal, all the puppies and the mama had to be checked out. In the end, the puppy must have caught a virus that caused her sudden decline and death. A couple of days after that, the entire family came down with kennel cough. Instead of going the antibiotic route, I did the hot steam and cupping route. Herding 6 young puppies in a bathroom and putting them through several minutes of breast cupping several times a day was some work. Thankfully, all puppies, including the mama, recovered nicely.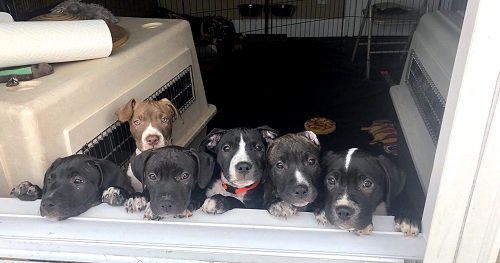 Unlike breeders or rescue groups, I kept the puppies until they were 12 weeks old. Now I can tell you that I understand why breeders and rescue groups give up the puppies at eight weeks because it requires a lot of work from the humans to entertain, protect, and clean the puppies. Between 8 and 12 weeks old is when they poop and pee everywhere when they explore their environment with their mouth and destroy everything that comes between their little teeth. But it was important to me that these young little creatures could spend time with their mama and each other. During that time, they learned how to play with their littermates, with their mama, and with my other dogs, and they also learned that biting hurts. It was fun watching them grow up and learn.
Once all puppies left the house, I focused on training Lady. She is a sweet dog who took very good care of her puppies. Unfortunately, she must have had a negative experience with men because when she saw men, she became very protective. I spent many hours with her at Home Depot to let her observe men who didn't do anything to her.
In August of 2019, she found her home with a family in Canton. I was sad to see her go; she was such an awesome dog. But I was busy taking care of the next foster dog.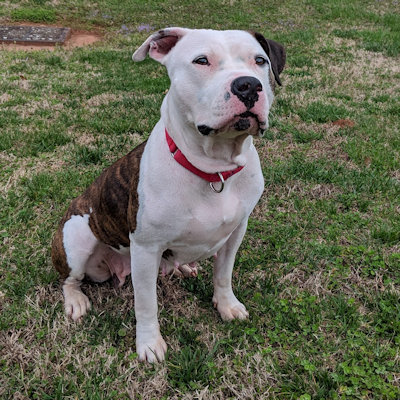 In June of 2019, I took in little Augie. At the time he was ten weeks old. A volunteer with Friends to the Forlorn found Augie, his two sisters, and their chained mother in Rockmart. Augie couldn't walk; he only hobbled on his front legs. Nobody knew what his true issue was.
On top of that, his right paw must have gotten caught in the chain. The paw was infected, a toe was torn off, and the ligaments were visible. It took several weeks to get his paw healed.
Due to the lack of strength in his hindquarters, he also couldn't hold his pee. And so when he ran around, he had to wear a belly band, or he peed everywhere.
In August, his paw was healed, but then one day, within just a couple of hours, he chewed up that paw all over again. A visit to and x-rays at the vet revealed that Augie didn't have a hip socket in his left hip. He must have been in excruciating pain but he never showed it. So a month later, in September, he had a femoral head ostectomy (FHO) on his left hip. That is where they cut off the head and neck of the femur bone which stimulates the body to create a pseudo joint.
Once that healed up, we started his physical therapy. Every week, I took him to acupuncture or physical therapy exercises. Underwater treadmill, land sessions, land treadmill, stretching exercises, you name it – we've tried it. With Augie, we had to test 99 approaches until we found the one that works. We made a breakthrough in late November when GA Vet Rehab recommended putting thera bands on his hind legs. We finally saw some progress where he moved his hind legs. We continued the work, and he can walk now on his own. Unfortunately, his walking is not as consistent as it is needed to take him on a long walk. And therefore in April, we decided to get him a wheelchair. You should see him rocking it out with his little "min spins." (This is the term that we use for his walker. "Min spins" stands for mini spinners. Mini – because we call him "Min" since he always has been rather small. With his min spins, he chases my dogs, runs the curbs up and down, goes over logs, walks through creeks – nothing stops this little guy.
Now, after a year of almost daily work, he is at the point where he is ready to find a forever home. Ideally, he needs a family who has another dog who is health-conscious and is willing to take good care of his deformed paw. And ideally, they have a house with no or limited stairs so that he can go in and out of the house on his own.
Thankfully, the Dodo made a video of him, and I hope that will help us find the best family for him.
And so, this is my 1,010-word summary of why you haven't heard from me for such a long time. But I am still here helping dog owners create a harmonious and healthy relationship with their 4-legged companion. And while COVID-19 slowed down the world, I created a new virtual program that uniquely serve dog owners. Check it out here.