Create An Awesome Relationship With Your Dog
End any annoying or dangerous behavior
Restore the fun with your dog
This website is a resource for dog owners who want to build a strong relationship with their dogs, understand their dogs better, and are willing to make minor adjustments in their lifestyle to create a harmonious, happy, and safe life with their dogs. It is for people who want to know more than how to teach their dogs how to sit, lay down or stay. Instead, we look at the dog and his behaviors from a broader perspective, including care, nutrition, and energy. Here you find free giveaways, lots of educational articles, tips, and different programs to enhance the partnership with and the well-being of your dog.
You are the guardian of one, two or more dogs and…
you love to take your dogs to public places,
you love for your dog to play with other companions,
you invite a lot of friends and family members to your home,
and you want to be the best dog guardian you can be.
But sometimes your dog doesn't seem to cooperate with your plans. Instead, (s)he drives you crazy and you get frustrated because of:
excessive barking when visitors come to the house or when they walk on the street
nipping family members or guests
aggressive behavior towards other dogs or people
destructive behavior such as chewing up furniture, peeing in the home or jumping the fence.
Current Workshops:
Regular interactive workshops where your questions get answered and where you will learn dog training, life, and leadership tips.
These sessions are 60-minutes online Zoom training to transform your leadership with your dog AND in your life.
To see the dates, further information and registration, click here.
These training programs are a $25 donation to the rescue group of your choice. Click here to learn more.
My name is Iris Grimm and for more than 20 years I've coached hundreds of dog owners. I've trained dozens of dogs, and I have raised thousands of dollars for rescue groups by providing educational workshops to dog owners. I truly found my passion by combining life and leadership coaching, dog training, animal communication, and health consulting into a business that has helped many dog owners and their dogs.
I am committed to helping dog owners and their dogs live their best life together. That is what most of my clients want. But sometimes life happens, and instead of happiness and laughter, there is frustration, sadness, and hardship.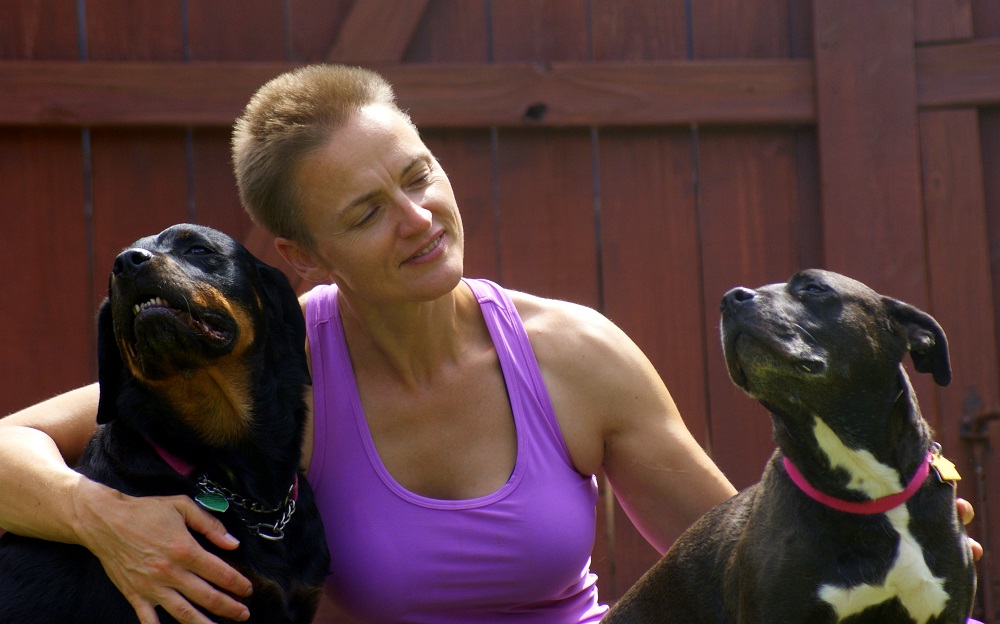 Dogs are dogs, and they can get into trouble when they don't receive clear and consistent leadership.
Humans treat dogs like humans; that is how many dog owners set their dogs up for failure.
Humans carry a lot of emotional and mental baggage. Dogs go by energy and therefore they can easily be impacted by our "stuff."
Some dogs come from traumatic situations that require a flexible leadership, patience, and understanding.
That's why I created a variety of programs. Some times, a dog owner just needs to learn a better skill to handle the dog effectively, and the dog's behavior will shift. Other times, the human benefit from leadership and life coaching to make healthy improvements in their lifestyle.
As a certified life and leadership coach, having worked with people for the last 21 years, I know how to support clients in cultivating greater self-awareness, making new and more refined distinctions, and building new behavioral competence. I am also trained as an animal communicator who gets in touch with the dogs to hear their side of the story and their concerns. Add to that my experience of training dogs for more than 20 years and my passion for healthy living and natural care taking, I have the right mix to support the humans and the dogs in their loving relationship.
Thank you for your workshop yesterday. I was very impressed and learned so much. I feel like I learned from the dogs' perspective, as compared to what I have been exposed to before.
I loved how you used your 'actors' to show how the techniques worked for them and was especially pleased with the technique for letting the dog train itself. That was wonderful: I could see the mental cogs turning!
I talked about this with my friends in my networking group this morning, and they were even intrigued.