Create An Awesome Relationship With Your Dog
End any annoying or dangerous behavior
Restore the fun with your dog
Welcome to "It's not the Dog" – where we empower dog owners to create a strong, harmonious, and joyful relationship with their dogs. If you're seeking more than just basic obedience commands and want to truly understand your dog's behaviors and needs, you've come to the right place.
This website is your ultimate resource, designed for dog owners who are dedicated to building a deep connection with their dogs. We go beyond teaching your dog simple commands, like sitting or staying. We believe in making minor adjustments to your lifestyle to create a safe, happy, and harmonious life together. And with that, we take a holistic approach, encompassing care, nutrition, and energy in our understanding of your dog's behaviors.
As a devoted guardian of one, two or more dogs, you …
love to take your dogs to public places,
love for your dog to play with other companions,
invite a lot of friends and family members to your home, and
aspire to be the best dog guardian possible.
However, there are moments when your dog seems to have a mind of their own, driving you crazy and leaving you frustrated. You might experience challenges such as:
excessive barking when visitors arrive at the house or during walks when they see other dogs or strangers
nipping at family members or guests
aggressive behavior towards other dogs or people
destructive behavior such as chewing furniture, peeing indoors, or escaping over fences.
Take a deep breath, because positive change is within reach.
I am Iris Grimm and for over 13 years I've coached dog owners like you. 
Through my experience in dog training, life and leadership coaching, animal communication, and health consulting, I've discovered my passion: helping dog owners and their dogs live their best life together.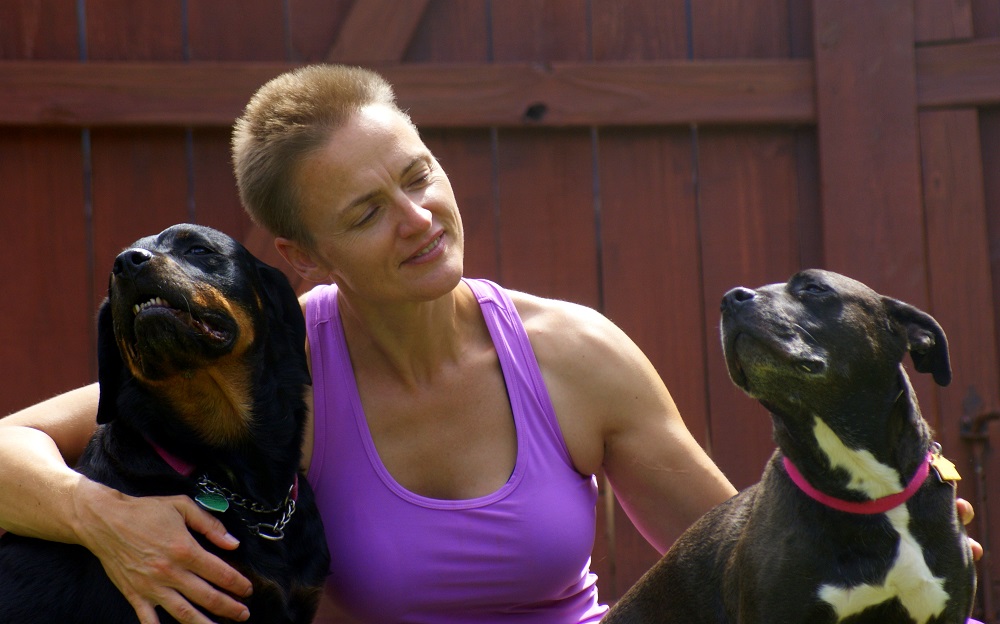 Based on my extensive experience with dogs and people I know that:
Dogs need clear and consistent leadership to thrive.
Treating dogs like humans sets them up for confusion and failure.
Our emotional and mental baggage can impact our dogs' energy and well-being.
Dogs can move through past traumas but they may require flexible leadership, patience, and understanding.
With this understanding, we can help an established dog overcome behavioral challenges and we can also help a puppy or newly adopted family dog prevent behavioral issues right from the beginning. That's why I customize my approach to cater to your unique needs. Sometimes, all it takes is learning a new skill to effectively handle your dog and witness their behavior transform. Other times, humans benefit from leadership and life coaching, making healthy improvements in their own lives that positively impact their four-legged family members.
My background and experience uniquely merge your desires with your dog's needs:
As a certified life and leadership coach with over two decades of experience, I specialize in cultivating self-awareness, providing valuable insights, and guiding people through life transformations.
I participated in animal communication training, allowing me to connect with your dogs and understand their perspectives and concerns.
Combined with my extensive dog training background and passion for natural care, I possess the perfect blend to support both humans and dogs in their loving relationship.
I meet with my clients in the greater Atlanta, GA metropolitan area, in the environments where they want to transform the behavior and relationship of their dogs. That includes Atlanta, Marietta, Woodstock, Acworth, Roswell, Alpharetta, Dunwoody, Sandy Springs, Tucker, Doraville, Smyrna, Buckhead, Brookhaven, and one time even as far as McDonough. 
Join me on this transformative journey at "It's Not the Dog." Together, we'll create a harmonious and fulfilling life with your beloved canine companion. You and your dog deserve the best, and I am here to make it happen. 
Are you ready? Let's take the first step together.
Contact me now

to begin your transformative journey.
Iris Grimm falls into what I call the old-school category. The old school category is a category of people that take pride in what they do, and they will not do a job unless they execute it at no less than 100%. It would not be possible for me to be more satisfied with the service Iris provided to my wife and me along with our 2-year-old Pitbull Elijah.
Iris will not sugarcoat it for you or your dog. She's going to provide a no-BS plan of action for both of you. All you have to do is do what she says to do. That's it. I can also say this about Iris. Iris truly cares more about you and your dog than she does about money. Iris formed a continual relationship with us, she constantly is checking in to see how we're all doing. A person who's just in it for the money does not do that.  She went above and beyond any expectations that I had. My wife and I could not be more satisfied.
Thanks, Iris.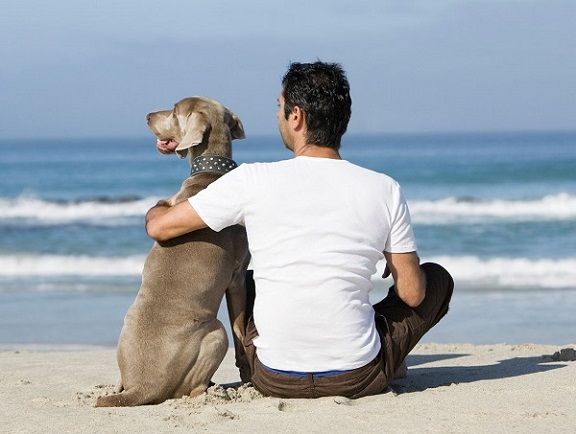 Experience a harmonious connection where your dog is bonded to you, behaves appropriately, and radiates true happiness. Whether you're a seasoned dog owner or a first-timer, our coaching sessions will help you overcome behavioral challenges and restore the fun with your dog. Book your personalized training and coaching session today!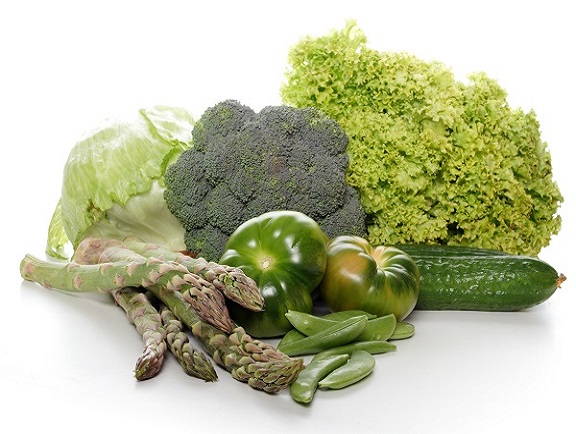 Not all dog foods are the same. Just like our body can't thrive by just eating fast food, neither can dogs thrive when eating kibble. You are your dog's greatest advocate and when you understand the basics of dog nutrition, you can invest in their long-term health rather than harming it. Learn how to make smarter and healthier choices for your dog.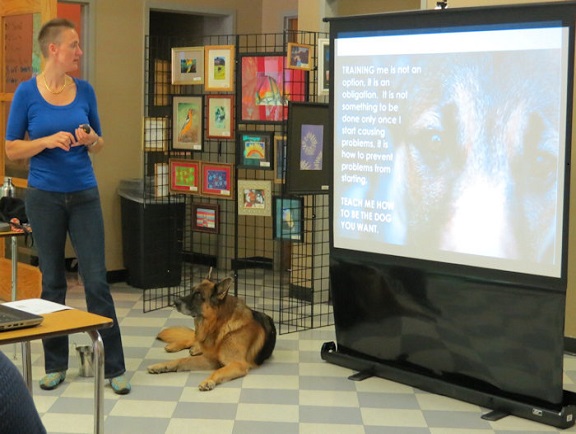 … is a practical and novel professional development program that draws parallels between dog leadership and human leadership. This program is ideal for executives, new leaders, dog-friendly workplaces and organizations that appreciate transforming leadership. It is designed to elevate performance in the workplace and create better collaboration between leaders and their teams.