Nutrition Coaching & Consulting
Build a strong foundation for your dog's health and vitality
When it comes to health, vitality, and longevity of your dog (and yourself as well), there are three criteria that play a decisive role:
1 – Genes – they were given to your dog by the parents. There is nothing you can do about them. Certain dog breeds have a propensity towards certain diseases or behaviors that you cannot eliminate (but you are able to influence them.)
2 – Lifestyle – the food you feed your dog, the amount of exercise you provide to your dog, and the stress or anxiety you put on your dog have an impact on your dog's life and behavior. Just making small changes in your own lifestyle and your dog's lifestyle can create huge benefits for all involved.
3 – Environment – the location where you live, the setup of your home, and the products you use in your home are very important when it comes to the health of your pet. Many dog owners are spending thousands of dollars at vet offices each year just because they are not aware how certain parts of the dog's environment create unhealthy behavior and disease.
Does your dog:
suffer from food sensitivity
act like a picky eater
have stinky breath or stinky farts
itch, scratch or bite itself a lot
lack the energy (s)he used to have
Or do you just want to provide the best nutrition for your dog without robbing the bank?
A lot of dog owners get seduced by the colored pictures that they find on the bags of known food companies, such as Beneful, Purina One, Pedigree or Science Diet, thinking that they provide healthy nutrition for their dogs.
Food is medicine and food plays a critical role in the physical, mental, and emotional well-being of dogs. I have seen many dogs change their behavior just because families switched to a different food brand.
As a certified Pet Food Nutrition Specialist, I was trained on dog food nutrition, how to interpret pet food and how to supplement missing components. In this consultation, I will share with you
how to interpret food labels,
what and why to avoid certain ingredients,
common mistakes that dog owners make regarding feeding their dogs,
how to strengthen your dog's immune system and overall well-being.
and more.
Nobody cares more about the well-being of your dog than you do; therefore you have to know the in's and out's of pet food marketing and what to pay attention to so that you are investing in your dog's health rather than harming it.
At the end of this session, you will know how to make better food and health choices for your dog. I always say, if you spend a little bit more time researching dog food, you can save yourself a lot of money at the vet's office.
To learn more about this program, click here to schedule a 20-minute complimentary conversation so that I can learn more about your objectives for this program.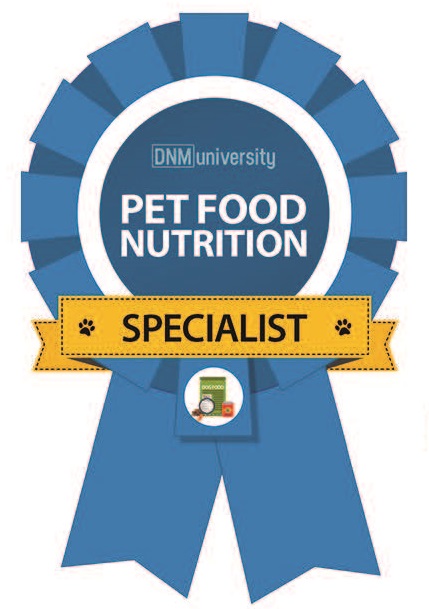 Additional Program Offers